BarnFest Summer Theatre Festival returns from 10-29 August! The festival will return to The Pavillion, which is located next to the theatre within the grounds of the newly opened hotel Ingleside House as well as a two-day residency from 21-22 August at the Manor House at Notgrove Estate, in association with Scoot Theatre.
This year BarnFest will be located inside Ingleside's newly refurbished pavilion. With full air conditioning and filtration. For additional safety measures we have decided to space you out a little bit. Therefore when you book, our ticket system will automatically block out any seats next to your party so that two bubbles are not next to each other. Please have a look at the seating plan and decide which block you wish to book. The system will automatically try to get you into your chosen block when purchasing. Please note, this image is for illustrative purposes only – you will need to click on "Book Now" next to a performance below to book.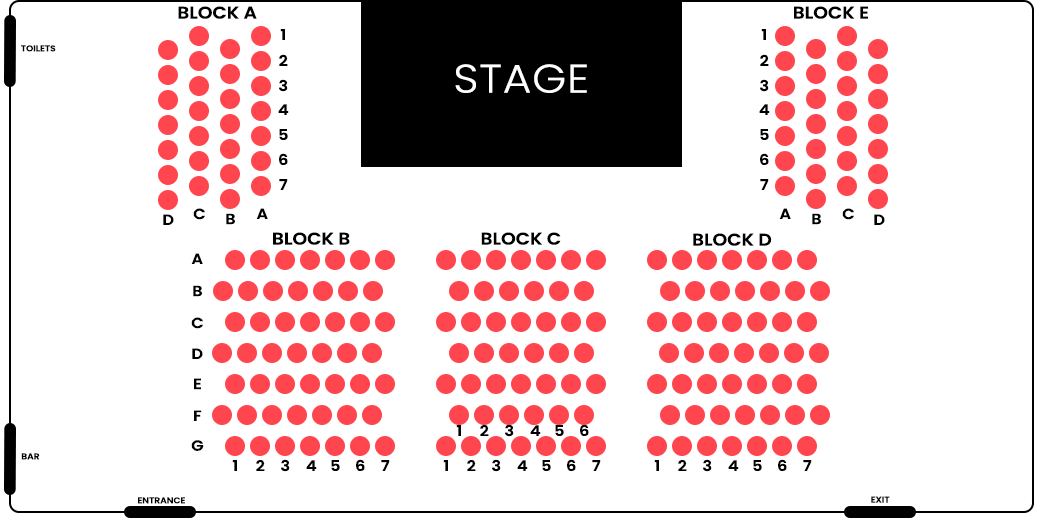 Grab your wands, don your house robes, and apparate yourselves to the box office! A very magical improv show awaits… The smash hit Spontaneous Potter Kidz is an entirely improvised wizarding comedy show, based on your suggestions! Hilarity ensues as wizarding sketches and entirely new Potter stories are magically improvised on the spot – with live musical accompaniment!
Note: Spontaneous Potter is an unofficial show that is not endorsed by or affiliated with Warner Bros., JK Rowling or her publishers. All rights to the Harry Potter books and associated trademarks are the property of JK Rowling/her publishers. All film/image rights associated with the film series are property of Warner Bros.
Spontaneous Sherlock is an award-winning, entirely improvised Sherlock Holmes comedy play based on an audience suggestion of a title. Performed by some of the UK's most critically-acclaimed comedy improvisers, with live Victorian musical accompaniment! Brought to you by the comedy improvisers behind the Edinburgh Fringe smash hit Spontaneous Potter.
To coincide with 50 years of Mr Benn on our screens we are bringing the magic of Mr Benn to the next generation of children. The Mr Benn stories will be retold with a 'costume shop' set, two actors to play Mr Benn and a narrator, plus an array of puppets to create the world of Mr Benn.
Sit Back, relax and let West End and International Musical Theatre Stars Lucy O'Byrne and Adam Bayjou take you on a journey through Broadway, London's West End and beyond. An evening of song from the world's best loved musicals, including the biggest hits from Les Misérables, Evita, The Sound of Music and many more.
Tweedy's back at the Barn! Come and join in the fun with Tweedy and friends, including Keef the Iron, Bob the Monkey and more as he brings his sell-out show Tweedy Al Fresco back to Barnfest.
The U.K's Premier Vintage Band fresh from their stunning West End run bring you an incredible show featuring the hits of the 50's and 60's. Get ready to laugh, sing and dance in the aisles with this exceptional group of musicians.
An Evening with
Jai McDowall.
Jai McDowall won the fifth season of Britain's Got Talent, capturing the hearts of a nation with his powerhouse vocals, natural charm and versatile song interpretations. Soaring vocals and thrilling arrangements, Jai's critically acclaimed one-man show comes to Barnfest this summer.
Notgrove:
A Midsummer Night's Dream.
The Barn Theatre, have teamed up with theatre company Scoot Theatre to take over the grounds of Notgrove Estate in the Cotswolds from 21-22 August for a weekend of outdoor theatrical family fun. A Midsummer Night's Dream Hermia loves Lysander. Lysander loves Hermia. But Demetrius loves Hermia. And Helena loves Demetrius. They all run into the woods where the mischievous sprite Puck has plenty of tricks in store for them! Meanwhile, the local cricket team is getting together to rehearse a play… Expect music, magic, and cricket bat sword fights!
Notgrove:
The comedy of errors
The Barn Theatre, have teamed up with theatre company Scoot Theatre to take over the grounds of Notgrove Estate in the Cotswolds from 21-22 August for a weekend of outdoor theatrical family fun. The Comedy of Errors Two sets of long lost twins. Finally in the same city. They just don't know it! Separated in childhood, Antipholus of Syracuse is travelling the globe in search of his twin brother. He defies the law by entering the mysterious city of Ephesus, where all Syracusians are banned. Things quickly get spooky when everyone he meets in Ephesus seems to know who he is… Let the confusion and chaos commence!
barn youth theatre:
the future of musical theatre.
The Future of Musical Theatre, a celebration of upcoming musical theatre talents in Gloucestershire, will be performed on 22 August at 8pm. The concert, which began life as an online fundraiser, was created by Barn Theatre volunteer and Barn Academy student Nathan Seatter-Messer as a way to support his local theatre.
Superhero Academy: Environmental Adventure.
Join the Superhero Academy to be part of the greatest quest of all: to save the world… quite literally! The planet needs all the help it can get and we can't rely on David Attenborough to do all the work! Your young superheroes will be defeating human actions; learning ways to fight climate change and save the planet through the art of interactive storytelling, music, puppets and games! Join us as we train up the next generation to go green (not like the Hulk!).
Tom Brace loved his childhood. Roald Dahl, Cluedo and one film in particular from 1985… Join him for a hilarious evening of 1.21 gigawatts of magic as he showcases his unique, incredible and totally pointless abilities in a new show inspired by his past! Featuring Tom's unique blend of comedy and magic, the show promises to have a little something for everybody.
The Big Movie Magic
Sing-Along
David is best known for presenting the UK's number 1 Kids TV show, 'Milkshake!' on Channel 5. David's Movie Magic Sing-A-Long is guaranteed to be a hit with the little ones, featuring all of their favourite musical hits from the movies they know and love!