The play is based on the hugely successful 2006 musical film of the same name written and directed by John Carney, former bassist for Irish band The Frames. Glen Hansard and Markéta Irglová's song "Falling Slowly" received a 2008 Academy Award for Best Original Song and the soundtrack as a whole also received a Grammy nomination. Once is a modern-day musical about a busker and an immigrant and their eventful week in Dublin. They write, rehearse and scrape together enough money to record a demo album with a motley crew of bar friends, in a collaboration that evolves into a powerful, very complicated but beautiful love story. Guy is an Irish singer and songwriter who spends his days fixing vacuums in the Dublin shop he runs with his father, and his nights playing his music in local pubs. He is on the verge of giving up music altogether when a Czech immigrant, "Girl," walks into the bar, hears him play and refuses to let him abandon his guitar. As it turns out, she has a broken vacuum cleaner, Guy repairs it, and she pays him in music on a piano she plays in a record shop. Over the course of a week, the Girl convinces Guy to believe in the power of his music and his love for the woman who inspired his songs.
Meet the cast
Click the (+) to see more information about the cast
Amy Bastani
as Reza / Ex-Girlfriend
Amy trained at Italia Conti Academy and graduated in 2019. Theatre and music work: Marian in Robin Hood (Greenwich Theatre, London), Angie in Summer Holiday (UK Tour), Ensemble and Musician in Zorro (Charing Cross Theatre, London), Singer for Haven Theatre Company (Hopton Holiday Village, Hopton-on-Sea), Vocalist/Musician for Sensatori Resort Entertainment (TUI Resort, Ibiza). For more information about Amy visit www.accessuk.agency
Toby Bradford
as Da / Bank Manager
Toby wrote, directed and starred in his first play at the age of eight at school in deepest darkest Lincolnshire. Since then, he has developed into a versatile actor across stage and screen. Highlights include starring in a five-star sell-out run at the Edinburgh Festival Fringe as John Worthing (Jack or Ernest) in the absurd Wildean sequel In A Handbag, Darkly; touring with stage, film and TV legends in classic drama On Golden Pond; and winning the TV show Sketch Up. And he was a founder member of the Actors' Workshop Nottingham. Toby displays his improvisational skills regularly at semi-scripted immersive events, most recently in The Polar Express – on a moving train! As a writer, Toby is a pantomime aficionado, with 12 published titles. A new play and a musical are in the offing. Toby is a songwriter and plays a variety of musical instruments. Toby is a member of Amplify at Nottingham Playhouse and In Good Company at Derby Theatre. He is a professional alumnus of the University of Derby, the only university in the country with its own producing theatre, Derby Theatre, where its Theatre Arts courses are based.
Fiona Bruce
as Baruska
Fiona trained at Studio 68 in London and Ecole Jacques Lecoq in Paris.
Fiona played Baruska in the original production of Once at the Phoenix Theatre in London. She later joined the Dublin cast for their production of Once in Seoul in South Korea. And she is delighted to be joining this new, exciting production of Once (once again!) at The Barn Theatre in Cirencester.
Other theatre credits include Grandmother and Summer Witch in The Snow Queen (Theatre by the Lake in Keswick and, more recently, at Beaulieu Abbey), Joan Todd in 84 Charing Cross Road (Cambridge Arts Theatre), Mrs. Fezziwig in Scrooge (Pitlochry Festival Theatre), Mother Courage in Mother Courage (Watford Palace Theatre), Camille Claudel in The Waltz (West Yorkshire Playhouse), Jenny in Threepenny Opera (London Bubble Theatre), Queen Elizabeth in Richard lll (Illyria Theatre Company), Beth Cuxom in The Mayor of Casterbridge (Everyman Theatre, Cheltenham), Mrs Bumble in Oliver Twist (Bolton Octagon) and Olga in Playing for Time (Salisbury Playhouse).
TV credits include Last of the Summer Wine, The Royal, Emmerdale, Where the Heart Is, Heartbeat, Prime Suspect, The Ward, Grange Hill, Taggart and Coronation Street. Film credits include Scot Free, Connected and Brothers of War.
Harry Curley
as Andrej
Harry Curley is a Rose Bruford College 2022 Graduate. Theatre credits include SUMMER IN THE CITY (Upstairs at the Gatehouse) Caligari (New Diorama/ Underbelly at Edinburgh Fringe '22).
Theo Diedrick
as Eamon/Emcee
Training: Guildford School of Acting, where he was the winner of the 2022 Timothy West and Prunella Scales Actors Speech Prize. Theatre includes: The True Adventures of Marian and Robin Hood (Barn), and RuneSical (Edinburgh Festival). Credits whilst training include As You Like It, The Baker's Wife and Into the Woods. Other work includes: W.E.B. Du Bois in a reading of new play, Recognition, and a commercial for Wagamama
Sarah Moss
as Girl
Theatre: Madhouse (The Ambassadors Theatre); The Mousetrap (St Martin's theatre); Million Dollar Quartet (India/UK Tour); Twentieth Century Boy (UK Tour); The Rise and Fall of Little Voice (The Theatre Chipping Norton/Greenwich Theatre); Noises Off (The Old Vic Theatre); The Lion in Winter (Theatre Royal Haymarket); Laurence Boswell's Beauty and The Beast (Theatre By The Lake); They Came to a City (Southwark Playhouse); There's a Guy Works Down the Chip Shop Swears He's Elvis (The Gatehouse/Edinburgh Fringe); Cinderella, Aladdin, Not Now Bernard & Other Monster Stories, (the Mercury Theatre). Beauty and the Beast (Exeter Northcott Theatre).
Film & TV: FBI: International (CBS); Valentine's Kiss (Gate Film); Nice Guy (Red Bike Films).
Audio: 'Rewind': The War Doctor Begins- Battlegrounds (Big Finish).
Sarah is also a singer-songwriter; These Full Moons, Where the Sirens Say & Untitled are available online.
Thomas Fabian Parrish
as Svec
Thomas is an actor, multi-instrumentalist and theatre maker originating from East London. Theatre credits include: The Lost Boy Peter Pan (The Pleasance Theatre London); Oedipus (Latitude Festival); Aladdin (Windsor Castle); Million Dollar Quartet (Norwegian Cruise Lines); Sleeping Beauty (Watford Palace Theatre); Dick Whittington and His Cat (Watford Palace Theatre); Summer In The City (Upstairs At The Gatehouse) Concert credits include: The Elvis Years (UK Tour); Shape of You (UK Tour); Lipstick On Your Collar (UK Tour). For more information, please visit www.accessuk.agency
David Shute
as Billy
David is from the green hills of Macclesfield in Cheshire but with family from all over Ireland he is thrilled to be taking part in the Barn's staging of Once. David has spent almost all of his career with an instrument in hand, starting off in Actor-Musician Children's Theatre almost a decade ago. Now based in London, David has been around for the rise of the Olivier Nominated show, Choir of Man to its West End stage since joining in 2020.
Other Theatre credits include; Choir of Man (Arts Theatre, London/ Adelaide Fringe/ Canada/ Coventry/ Edinburgh Fringe/ Norwegian Cruise Line); The Ballad of Rudy (New Wolsey Theatre, Ipswich); All or Nothing: The Mod Musical (Arts Theatre, London/ UK Tour); The Stick Man (UK & International Tour); We're Going on a Bear Hunt (UK & International Tour); What the Ladybird Heard (UK & International Tour); Used Blood Junkyard (Arcola Theatre, London)
Tomas Wolstenholme
as Guy
Tomas trained on the Actor Musicianship course at Rose Bruford College. Outside of theatre he works as a musician, composer and vocalist both in the UK and internationally. Theatre Credits include: Choir of Man (Norwegian Creative Studios), One Man Two Guvnors, (Derby Theatre), Footloose (West End/UK Tour), ONCE (West End/International Tour), The Greatest Show, (UK Tour), Nadiya and Kai -Once Upon a Time (Strictly Come Dancing UK Tour), The Iron Woman (The Other Palace), Othello (Stafford Castle), Aladdin (Queen's Theatre Hornchurch), Berenice (Theatre Forge), In Our Skin (Midlands Arts Centre), Mike Kenny's Cinderella (The Octagon), Ruff Tuff Cream Puff Estate Agency (Belgrade Theatre), Can't Buy Me Love (Salisbury Playhouse), The Burnt Part Boys (Park Theatre), The Crucible, (Rose Theatre), Into the Woods (Stratford Circus).
Please select a date using the arrows or the calendar icon, then select your seats.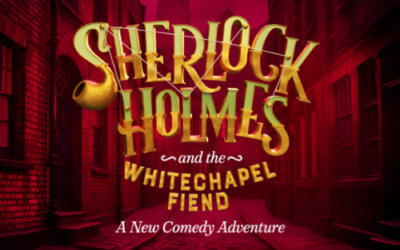 29 JANUARY – 09 MARCH 2024