Barn At Home.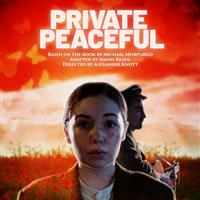 Private Peaceful
Private Peaceful relives the life of Private Tommo Peaceful, a young First World War soldier awaiting the firing squad at dawn.
Cast: Emily Costello, James Demaine
Run Time: 1hr 0min
Age Guidance: 9
Dates 19 April - 2 May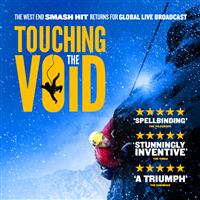 Bristol Old Vic Presents – Touching the Void
What happens when you look death squarely in the face and how do you find the strength to crawl back towards life? Following its sold – out world premiere in Bristol Touching the Void returns for one week only, live from Bristol Old Vic.
Production Company: Bristol Old Vic
Cast: Fiona Hampton, Patrick McNamee, Josh Williams, Angus, Yellowlees
Run Time: 2hrs 20mins
Age Guidance: 12
Access Options: We will be providing a captioned and audio described performance. Stay tuned for more info on how it will work.
Partner Venue: This production is brought to you in partnership with our friends, Bristol Old Vic Theatre. The stream will be located on their website. More details available when booking.
Now or Never
Now or Never is a British song cycle with an exciting and ambitious digital twist. Now Or Never is a song cycle written by associate artist Matthew Harvey, which follows 7 people as they each take a defiant act of positivity in their last week on Earth.
Production Company: 'The Barn Theatre' in association with 'Alter Ego Theatrical'
Run Time: 0hr 30mins
Age Guidance: 6
Access Options CC